Spread some joy this season with a holiday debit card!
Shop with one of our holiday-themed Visa® Debit Cards and help grant a wish for our neighbors in need. For every $100 spent through 12/31/17 using a Holiday Debit Card, Fairfield County Bank will donate $1.00 (up to $5.00 per customer) to the WICC 600 Holiday Fund for Children*.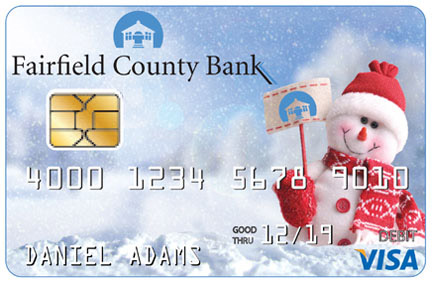 Our holiday-themed debit cards come equipped with all of the features and benefits of our Visa Debit Cards and provide the enhanced security and protection of an EMV Chip Card.
*The WICC Holiday Fund helps make the holidays a little brighter by granting wishes such as utility bills, toys for children, rent and mortgage payments, food (groceries and holiday meals), clothing for the winter months, medical and dental assistance, and much more to families living in Fairfield County.